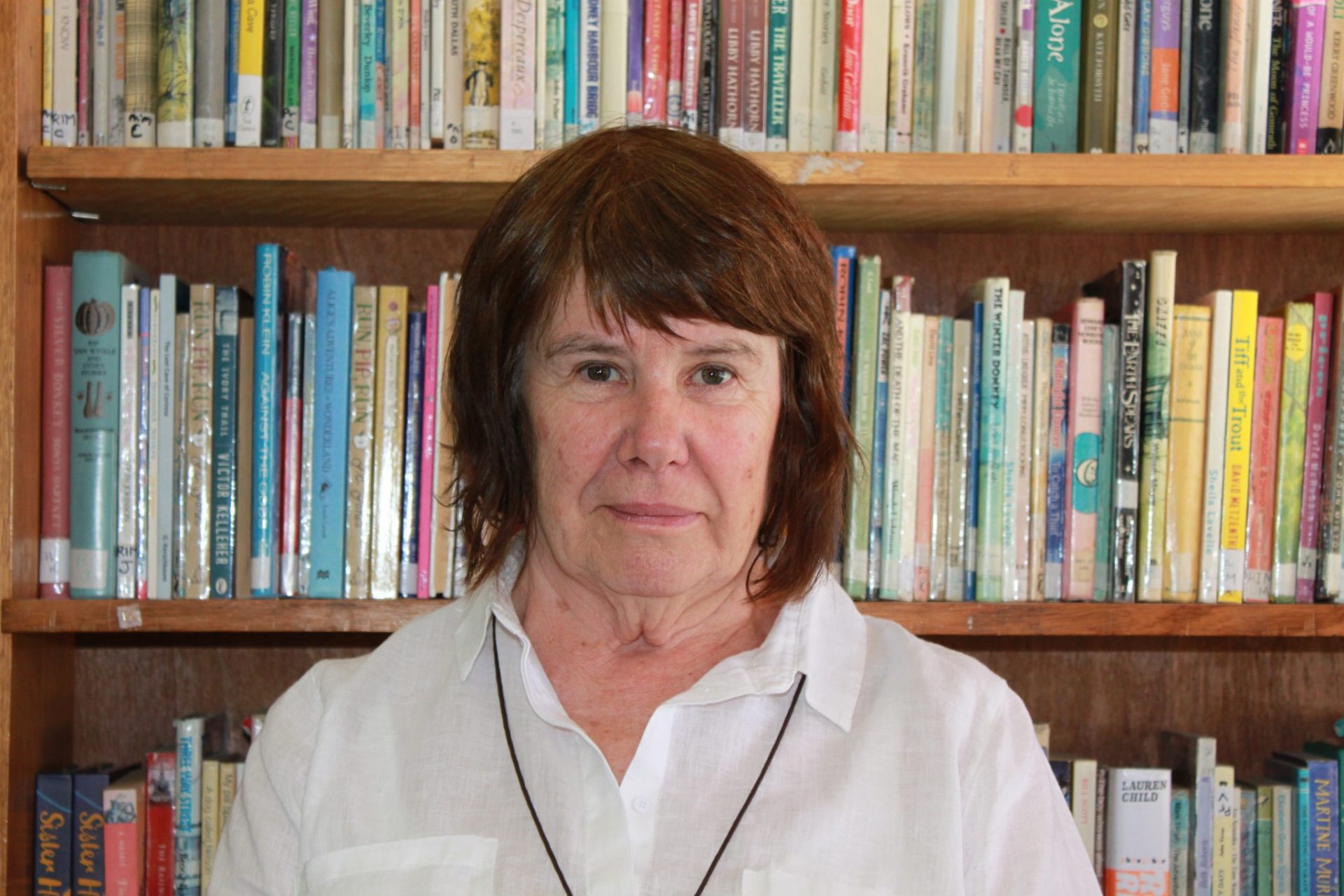 Wilma Lambert
Principal of the Lambert School and teacher of Secondary/ Primary English, Writing and Literature.
When I walked into the "Bubs" classroom at St Marys Convent School, Sale, I knew I was in a wonderful place. My teacher, Sister Monica, was a playful, clever woman who loved books, music, art, God and children. She is still my hero and I wanted to stay in school forever.
Later in Grade 3 I discovered another sort of teacher, cruel, with no love of learning or children. I still wanted to be at school forever but I understood school could be a place of beauty and learning or misery and failure.
This knowledge informed my desire to start a school for my own children who were encountering a lack of belief in learning, happiness or goodness in their local primary school. The school I founded allows me to live a privileged life of learning and creativity among students with whom I have made deep connection through learning.
Nina Penfold
Nina is the Deputy Principal at Lambert School. She has been teaching in the public system and internationally since 1981. She has worked from Foundation to Grade 12 in a variety of teaching and management roles. Her specialist interests are in the areas of Literacy and Learning Disability Support. Nina worked 16 years at Taroona Primary and 3 years in the Learning centre at Hobart College before joining the Lambert staff. She has been teaching at Lambert for the past four years and most recently teaches Primary HASS and Literacy as well as being the support teacher working with individuals and monitoring students' individual learning plans.
Stephen Lambert
Stephen's role is as the Business Manager of the school. He is also the co-ordinator of camps and has qualifications in First Aide.
Steve was a Registered Nurse, Household Maintenance and Repairs, Photographer, Festival Construction/DJ and Hospitality.
After an injury ended his nursing career a new employment direction was needed. His enjoyment of construction and the outdoors headed him down the path of a building apprenticeship but the desire to assist Wilma and Neville with the running of Lambert School took over after observing the difference the school made to so many families. Furthermore, the compliance requirements associated with running a school had grown exponentially and he felt there was a need for someone with intimate knowledge of the school to fill this role.
Cheryl Scripps
Cheryl is a graduate from the University of Tasmania and holds a Bachelor of Arts with Majors in History & Sociology and a Bachelor of Teaching. She has been teaching for 19 years, 10 years teaching in South Australia and Northern Territory. She specialises in Curriculum and Pedagogy and has worked as part of a team to research Teaching for Effective Learning practices and has coached teachers and leaders in South Australia and the Tiwi Islands. Cheryl is the Early Childhood teacher and Secondary HASS teacher.
Bob Fletcher
Bob Fletcher BSc(Hons), MTeach : Science (Primary and secondary) and Mathematics (Secondary).
Bob grew up in Leicestershire and graduated from the universities of Sheffield and UTAS. He always had a fascination with the natural world and the universe beyond. From photographing iguanas in the Galapagos to discovering a new star, Bob has experienced things in new ways. He sees nurturing curiosity as the most noble aspect of teaching. Bob is an alumnus of the STEM X Academy, one of the leading science and mathematics professional development programs in Australia. Bob is a current member of the board of the Science Teachers Association of Tasmania, leads the Sandford Cubs group and coaches a Meehan Rangers youth football team.
Eleanor Tucker
Eleanor is a graduate of the Tasmanian Conservatorium of Music and holds a Master of Teaching from the University of Tasmania.
Professionally, Eleanor has sung, both as a soloist and with several ensembles in Australia and Europe. She has worked across a broad range of genres and ensembles composing and performing for jazz, cabaret, Latin big bands and a capella 'world' music ensembles. As a performer, composer and guitarist, she has worked with world-renowned companies including Circus Oz, Terrapin Puppet Theatre and Blindman's Holiday. Eleanor has independently produced two albums of original works: From the Passion Vine (2015), and Dancing in The Kitchen (2016), as well as recorded a variety of singles.
Eleanor is passionate about working within community-based projects, Eleanor has extensive experience facilitating song writing, singing and music workshops at factories, correctional centres and for people with various disabilities. She has been commissioned to write and arrange material for the Hobart Women's Shelter choir as well as the Tasmanian QTas choir. She has co-written, recorded, directed and produced a musical, one-hour variety show, Showtime, with members of the community music group, Thirsty Ground. In 2021, Eleanor was commissioned to write a series of songs featuring ukulele and orchestral instruments for TSO Education and Community. These songs were recorded, videoed and have been released via YouTube through the TSO website specifically for use as an educational resource. Eleanor's aim as a teacher at Lambert is to enable students to engage in a wide range of music making and appreciation activities in a non-competitive environment, encourage independence and lifelong participation in the subject.
Caroline Jackson
Caroline is the French teacher at Lambert School for Primary and High School students.
The courses introduce students to the French language and culture of the French speaking world. French and English are the only two languages that are official languages on all continents of the world, as well as Antarctica!
Caroline has been teaching modern languages for over 40 years and is the co-ordinator for the Alliance Française de Hobart. She is the President of the Alliance Française de Hobart and the organiser of the annual Alliance competition. With her experience teaching at College level and being the current Chief Setting examiner for TASC's French 3C exam in years 11 & 12, Caroline is well able to prepare Lambert students for life after Lambert, whether they continue with French or not.  'A study of other languages greatly helps with the development of and knowledge about one's own language'.
Tai Gardner
Tai is Lambert School's primary and secondary Drama teacher. Tai started teaching in 2021 and has worked in the school as a teacher's assistant and administrator since 2017. Tai is currently undertaking his Master of Teaching (Secondary) specialising in Drama and Science. Tai's previous qualifications include Bachelor of Science, Bachelor of Science (Hons), and has completed his PhD in microbiology. Tai has worked professionally as an actor, director, and playwright. Tai has previously worked in Hobart with Directions Theatre (Shakespeare in the Gardens), Bad Company Theatre, and as a freelancer. Tai is also the state representative of the Australian Stage Combat Association.
Tai also fills roles in administration, is a teacher's aide, and is the school's Covid-19 officer.