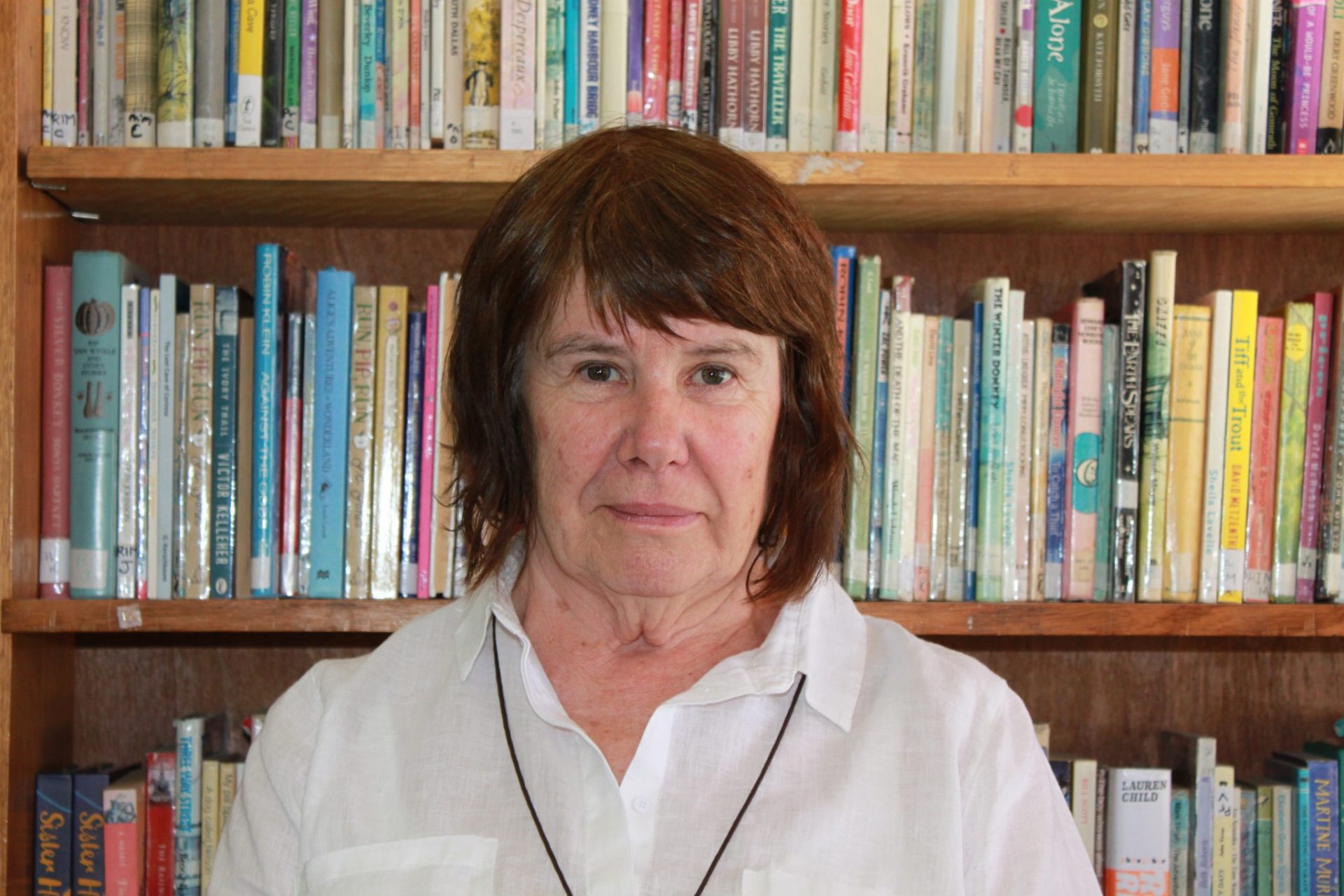 Wilma Lambert
When I walked into the "Bubs" classroom at St Marys Convent School, Sale, I knew I was in a wonderful place. My teacher, Sister Monica, was a playful, clever woman who loved books, music, art, God and children. She is still my hero and I wanted to stay in school forever.
Later in Grade 3 I discovered another sort of teacher, cruel, with no love of learning or children. I still wanted to be at school forever but I understood school could be a place of beauty and learning or misery and failure.
This knowledge informed my desire to start a school for my own children who were encountering a lack of belief in learning, happiness or goodness in their local primary school.
The school I founded allows me to live a privileged life of learning and creativity among students with whom I have made deep connection through learning.
Cheryl Scripps
Cheryl is a graduate from the University of Tasmania and holds a Bachelor of Arts with Majors in History & Sociology and a Bachelor of Teaching. She has been teaching for 14 years, 10 years teaching in SA and Northern Territory. She specialises in Curriculum and Pedagogy and has worked as part of a team to research Teaching for Effective Learning practices and coached teachers and leaders in SA and the Tiwi Islands.
Stephen Lambert
Full time employed at Lambert School.
Primary role – Administrator.
Other roles – Camp co-ordinator, Work Place Health and Safety Officer, First Aid and Maintenance.
History – Registered Nurse, Household Maintenance and Repairs, Photographer, Festival Construction/DJ and Hospitality.
After an injury ended my nursing career a new employment direction was needed. My enjoyment of construction and the outdoors was heading me down the path of a building apprenticeship but the desire to assist Wilma and Neville with the running of Lambert  School took over after observing the difference the school made to so many families. Furthermore the compliance requirements associated with running a school had grown exponentially and I felt there was a need for someone with intimate knowledge of the school to fill this role.
Bob Fletcher
Bob Fletcher BSc(Hons), MTeach : Science (primary and secondary) and Mathematics (secondary).
I grew up in Leicestershire and graduated from the University of Sheffield then UTAS. I have always had a fascination with the natural world and the universe beyond. From photographing iguanas in the Galapagos to discovering a new star, I have been lucky to experience things in new ways and see nurturing curiosity as the most noble aspect of teaching. My degree was related to ecology, although I have worked with semiconductors and lasers as well as in the tourism industry. I am an alumni of the STEM X academy, one of the leading science and mathematics professional development programs in Australia.
Eleanor Tucker
Eleanor is a graduate of the Tasmanian Conservatorium of Music and holds a Masters of
Teaching from the University of Tasmania.
Professionally, Eleanor has sung, both as a soloist and with several ensembles in Australia and Europe. She has worked across a broad range of genres and ensembles composing and performing for jazz, cabaret, Latin big bands and a capella 'world' music ensembles. Her aim as a teacher at Lambert is to enable students to engage in a wide range of music making and appreciation activities in a non-competitive environment, encouraging independence and lifelong participation in the subject.
Caroline Jackson
French teacher at Lambert School for Primary and High School students.
The courses introduce students to the French language and culture of the French speaking world. French and English are the only two languages that are official languages on all continents of the world, as well as Antarctica!. Lambert French students have the opportunity to participate in the Alliance Française competition each year (the largest language competition in Tasmania).
Lambert students may also be eligible to undertake student exchanges/ study time in France, through the organisation Students of the World. Caroline has been teaching modern languages for over 35 years and is the class co-ordinator for the Alliance Française de Hobart. She is also an enthusiastic member of the Modern Language Teachers' Association of Tasmania.
With her experience teaching at College level and being the current Chief Setting examiner for TASC's French 3C exam in years 11 & 12, Caroline is well able to prepare Lambert students for life after Lambert, whether they continue with French or not.
Nina Penfold
Nina has been teaching in the public system and internationally since 1981. She has worked from Kinder to Grade 12 in a variety of teaching and management roles.
Her specialist interests are in the areas of Literacy and Learning Disability Support. Most recently, Nina worked 16 years at Taroona Primary and 3 years in the Learning centre at Hobart College. She has been teaching at Lambert for the past three years as a History and English teacher. Nina is also the support teacher and monitors students' individual learning plans.
Xuan Zhou
I graduated with a Master of Teaching Degree from the University of Tasmania in 2018. I completed the Master of Teaching Chinese to Speakers of Other Languages and Bachelor of Law in Tianjin, China. I have rich experiences in teaching Chinese as an additional language at primary and secondary schools in China, South Korea and Scotland. 
In my Chinese class, the development of intercultural understanding is a central aim. I do not only teach children how to speak and write in Chinese, but also help them discover how people live in China. It develops student understanding of and respect for diversity and difference, and an openness to different experiences and perspectives. Students are encouraged and prepared to participate in the Chinese Speaking Competition in Tasmania annually.